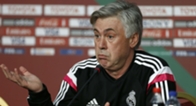 Carlo Ancelotti is eager for Real Madrid to forget their Copa del Rey exit at the hands of Atletico Madrid ahead of Sunday's Getafe clash.Real Madrid coach Carlo Ancelotti has urged his side to shrug off their Copa del Rey elimination at Atletico Madrid's hands and focus on La Liga and the UEFA Champions League. Ancelotti's men visit neighbours Getafe on Sunday keen to bounce back after succumbing...
Videos




Chile head coach Jorge Sampaoli insists his squad can cope with the three-match suspension handed to Gonzalo Jara at the Copa America.





The Real Madrid manager forgot the Spanish word 'adapted'
Arsenal goalkeeper Petr Cech is convinced his new club can consistently challenge for silverware....

Kevin Keegan believes that Gareth Bale can one day prove to be better than Real Madrid team-mate Cri...

Lakers big man Ed Davis has decided to opt out of the second year of his deal with the team....

SBOBET is proud to be awarded the prestigious award of Asian Operator of the Year 2010 at the sixth annual...

Another top 20 placing for SBO as it continues to generate significant revenues from Asia, with its financial...

At a Glittering Industry Event held 30th November 2009 in London and attended by 2,000 industry leaders IOM...



Another top 20 placing for SBO as it continues to generate significant revenues from Asia, with its financial...

I have to hand it to Stefano Domenicali - if there is one thing he and his team is doing right at the moment, it's saying the right things...

Juventus maybe the inevitable champion of the Italian top tier football competition, but make no mistake: the biggest story this...
Siniša Mihajlović
Before taking the coaching job at U.C. Sampdoria in 2013, the 45-year-old Siniša Mihajlović is an accomplished, successful coach who had prior managerial positions in various teams - Bologna, Catania, Fiorentina and Serbia. Mihajlović, a one-time FR Yugoslavia Player of the Year, is a defender during his playing days.
Rafael Benitez
Rafael Benitez has called the shots for various clubs (Real Madrid B, Valladolid, Osasuna, Extremadura, Tenerife, Valencia, Liverpool, Internazionale and Chelsea) before signing with Italian Serie A outfit Società Sportiva Calcio Napoli in 2013. The 53-year-old native of Madrid played competitive football from 1974 to 1986.
Dirk Nicolaas Advocaat
Advocaat replaced Gus Poyet as Sunderland's boss last March 2015. He started his career as a footballer representing the Netherlands twice and having appeared in a total of 543 games in his senior career. He was tapped as a coach for a number of squads, including the national teams of South Korea, Belgium and Russia.
Roger Schmidt
Roger Schmidt - currently Bayer Leverkusen's manager - started his coaching career with Delbrücker SC, followed by a stint at Preußen Münster before signing up with Paderborn 07. In 2012, he transferred to Red Bull Salzburg to lead them towards a 2013–14 Austrian Football Bundesliga and 2013–14 Austrian Cup conquest.
Paul Labile Pogba
Sports : Football
Team : Juventus
Playing position : Midfielder
Squad number : 6
Birth Date : 3/15/1993 (21)
Nationality : French
Estimated Market Value/Salary : 4.5M EUR (2015)
Andrea Pirlo
Sports : Football
Team : Juventus
Playing position : Midfielder
Squad number : 21
Birth Date : 5/19/1979 (35)
Nationality : Italian
Estimated Market Value/Salary : 3.5M EUR (2014)